Crafts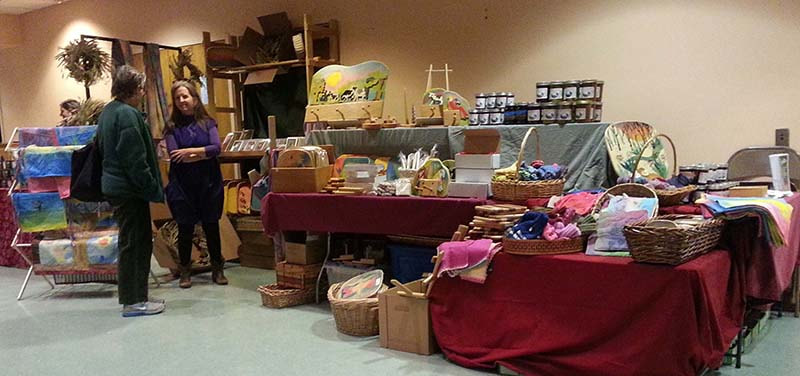 When the summer is over, we are happy to retreat indoors to express and create in various ways, building inventory for the craft fairs we attend though the year. We appreciate the opportunity to contribute beauty to the world. All of our crafts are therapeutic and balance skill development with positive social teamwork and a deep sense of satisfaction.

Fabric Art grew out of a need for therapeutic painting. We create beautiful wall- hangings, tablecloths, napkins and bags, while enjoying the flow and form of washable, water-color paints.

We only paint in the primary colors. Each painter has only one color so all secondary colors are the result of the painters' successful interaction and balance with each other. Social harmony is played out on the tablecloth! Stencils add the foreground to our pieces.
A separate painting group creates collaborative pictures for framing while the candle group hand dips beautiful, evenly burning, beeswax candles.

The paper group makes paper out of our recycled office waste. The paper is used in turn by our screen printing group and our stenciling group. With original designs inspired by nature and our environment, we make various cards for sale.
Our rug makers weave and braid oval and circular rugs out of recycled t shirts while the woodworkers color and finish their crafts and the felting group makes booties out of pure wool.

In the winter of 2016, we started a little ceramics studio, making bowls, candle holders and ornaments.